At a meeting of the European Resource Bank in Stockholm in June 2022, there was a session "What Is Liberalism?," organized by Anders Ydstedt and featuring Hannes Gissurarson, Dan Klein, Catarina Kärkkäinen, and Kristina Bogdanova. A video of the session is here. Here below, Klein conveys his presentation.
The Liberal Christening
by Dan Klein
In the 1770s, Adam Smith and others affixed a political meaning to the word 'liberal.' In doing so, they christened their political persuasion 'liberal.'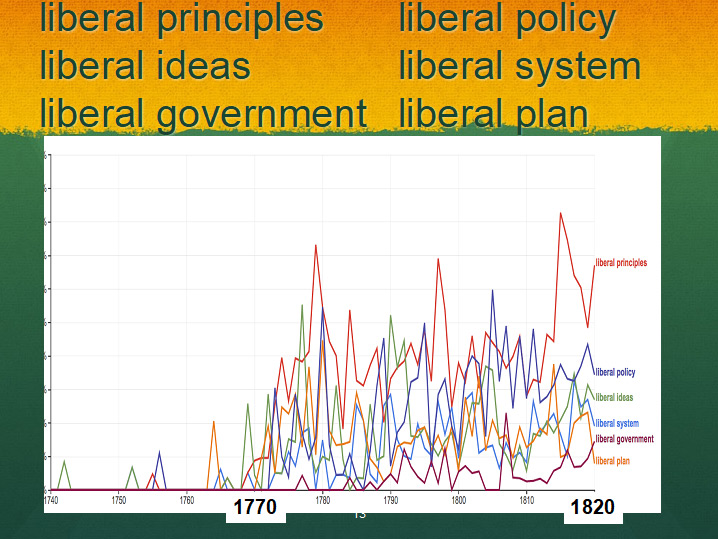 Source: link
That gave rise to 'liberalism.' The first political liberalism was Smithian liberalism.
Here I use slides from my presentation in this video. The PowerPoint file is here.
Anders Ydstedt is troubled that, in Sweden, 'liberal' is increasingly used in the pro-governmentalization sense of Justin Trudeau and Paul Krugman. Anders conceived of and hosted the session.
As an American, I say: Get used to it. Expect multiple meanings, and stand by the Smithian meaning. Don't call leftists 'liberal.' Calling leftists 'liberal' is the gift that keeps on giving.
There is a new and happy trend in the United States. Non-leftists are increasingly calling leftists 'leftist' or 'progressive' or 'Democrats.' Nice!
Some people have suggested that liberalism didn't exist before the word liberalism— that is, the noun ending in -ism—was used.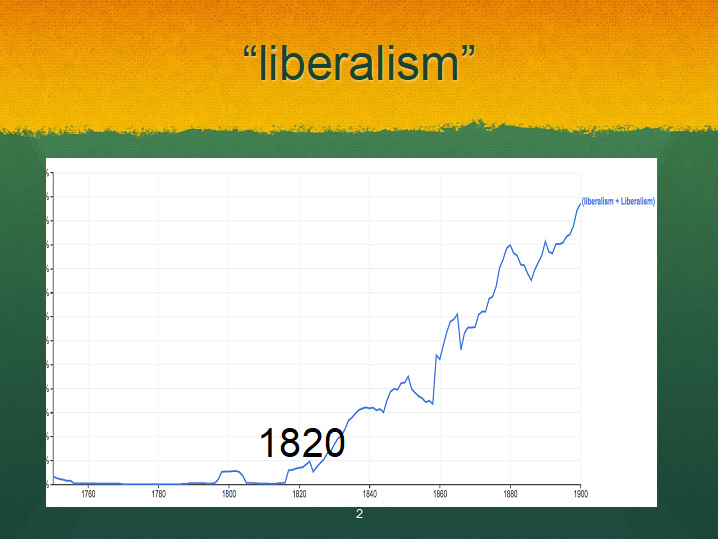 Source: Ngram Viewer
As Shakespeare pointed out, roses smell sweet irrespective of what we call them. Roses existed before English speakers used the word 'rose.' Rocks existed before English speakers used the word 'rocks.' The sun existed before English speakers used the word 'sun'—long before.
Likewise, Samuel Johnson and conservatism existed before 1830: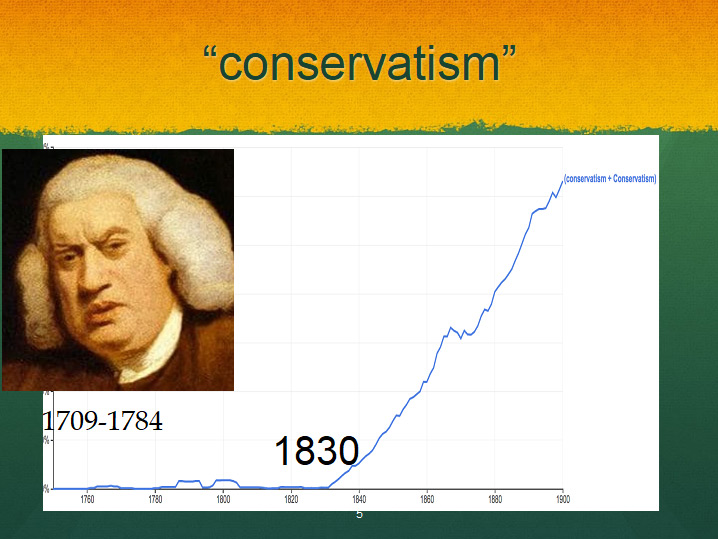 Source: Ngram Viewer.
Anthony Benezet and abolitionism existed before 1830: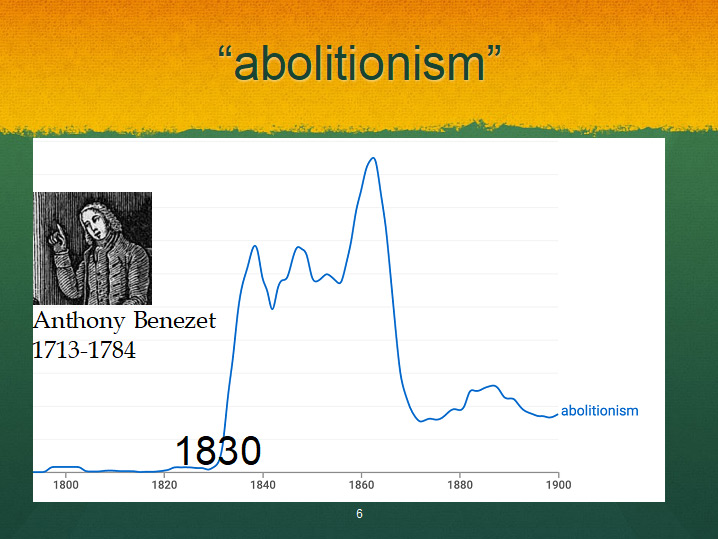 Source: Ngram Viewer.
Protectionism existed long before 1860: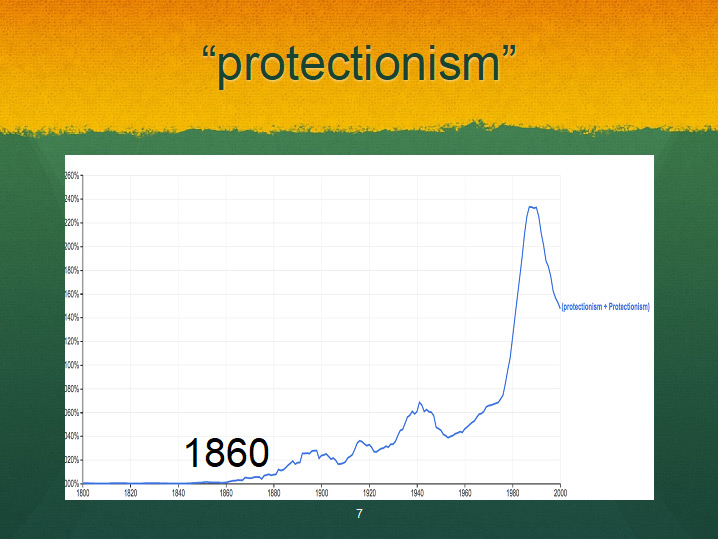 Source: Ngram Viewer.
Racism and sexism existed long before the 1930s: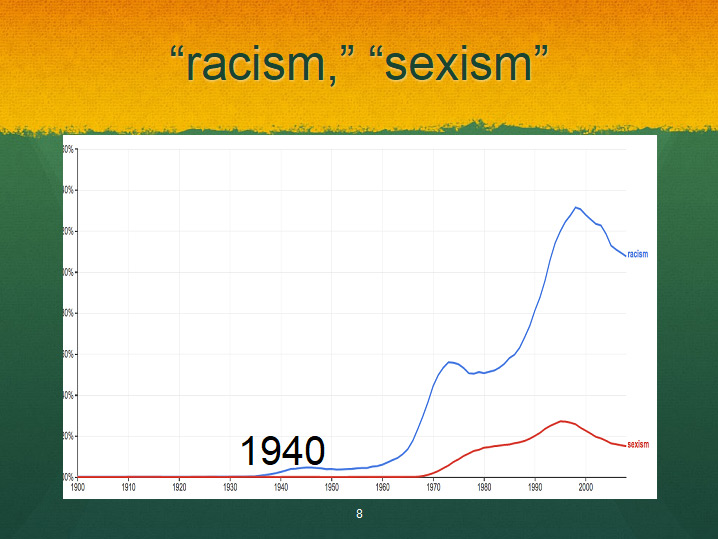 Source: Ngram Viewer.
Liberalism existed before 1820—though how long before is worth debating.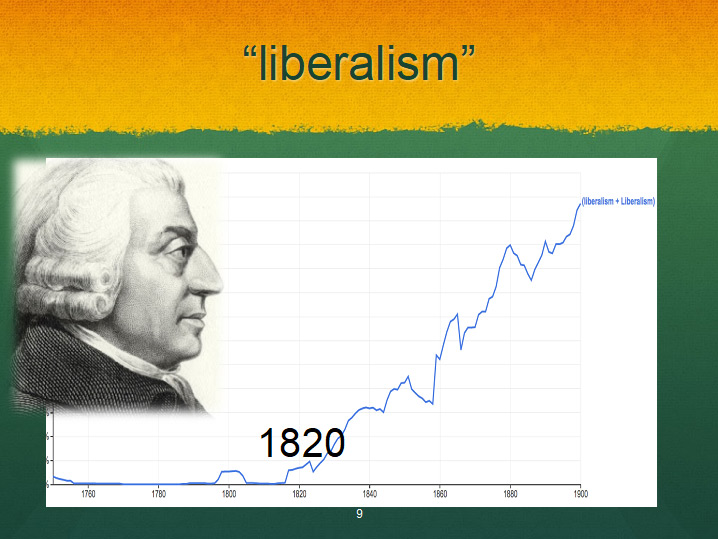 Why was it that the -ism came to be called liberalism?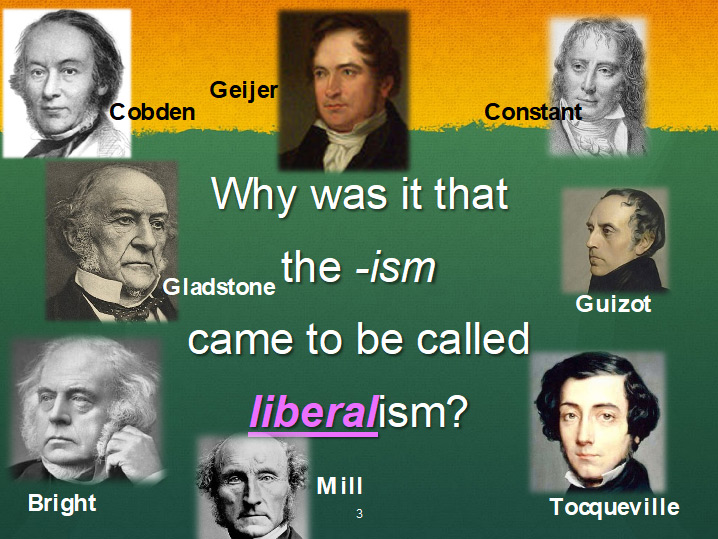 Some people have said that a political meaning of 'liberal' started on the Continent and that Britain imported it from the Continent. People talk about the Spanish Liberales circa 1810. (Hey, wasn't the Smithian Swede Georg Adlersparre talking 'liberalism" at the same time? See also Johan Norberg.) Some of these people say, without any significant evidence, that the French Revolution originated a political meaning of 'liberal.'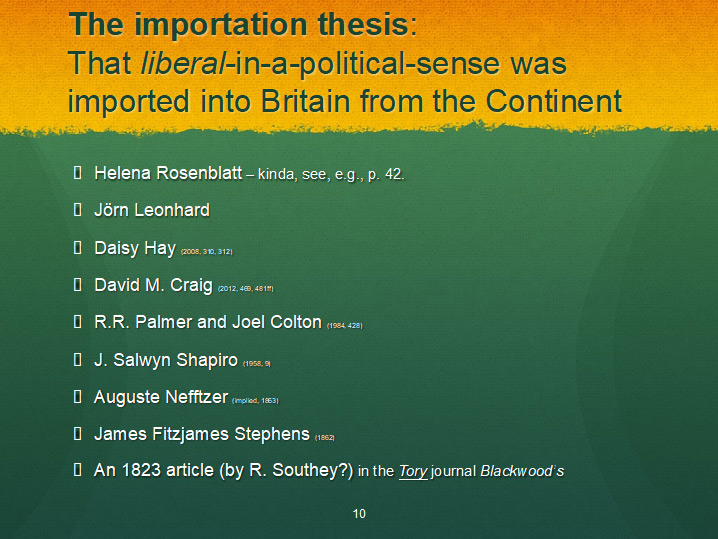 Hayek in his day heard such rumors, but thought differently: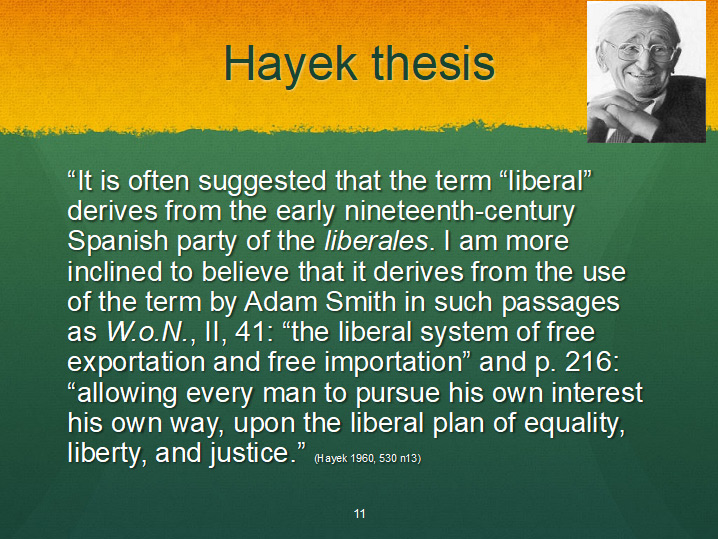 That is from The Constitution of Liberty, specifically, the epilogue. Now it's proven that Hayek was right and the others wrong.
There is a lot of talk about how 'big data' is going to make miracles and answer big questions. When a lot of interpretation and judgment is involved in utilizing the data, the touting of 'big data' is hooey.
When interpretation and judgment are simple and straightforward, however, big data are powerful. The Google Ngram Viewer is simply counting and percentages. There is no statistical manipulation on my part. Because we can speak so plainly of the data, we say "the data speak for themselves." Here again is the slide from above: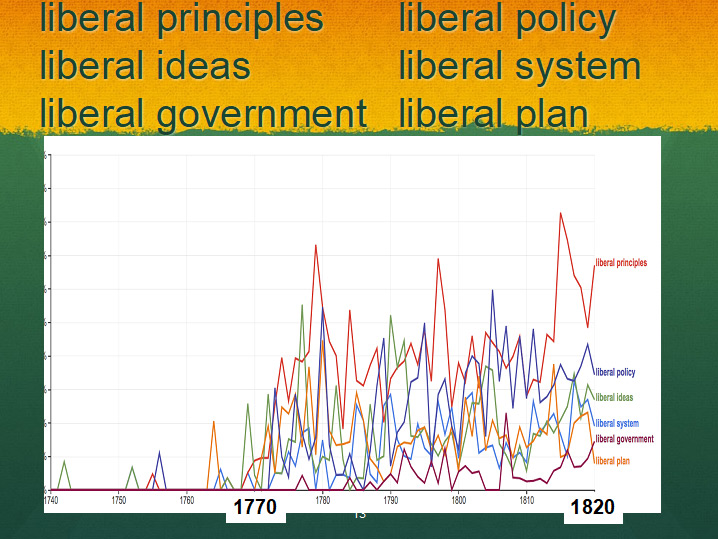 Source: link
Here's another analysis which tells us that it wasn't as though people just started throwing 'liberal' into all their 2gram collocations: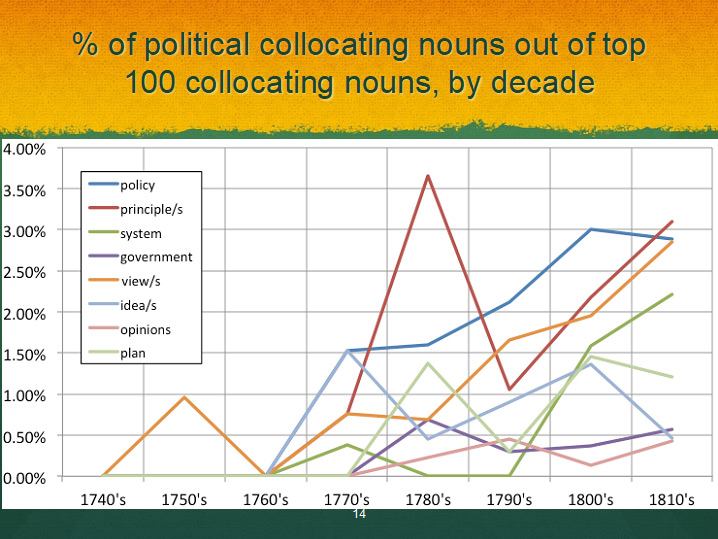 So, it supports that Hayek was right and the others wrong.
Next, I looked at all the all the pertinent authors at Liberty Fund's Online Library of Liberty, and that too confirms that, other than a couple of suggestive instances in David Hume, treated here by Erik Matson, there's almost no sign of attaching a political meaning to 'liberal' before 1769 (the year of William Robertson's important work).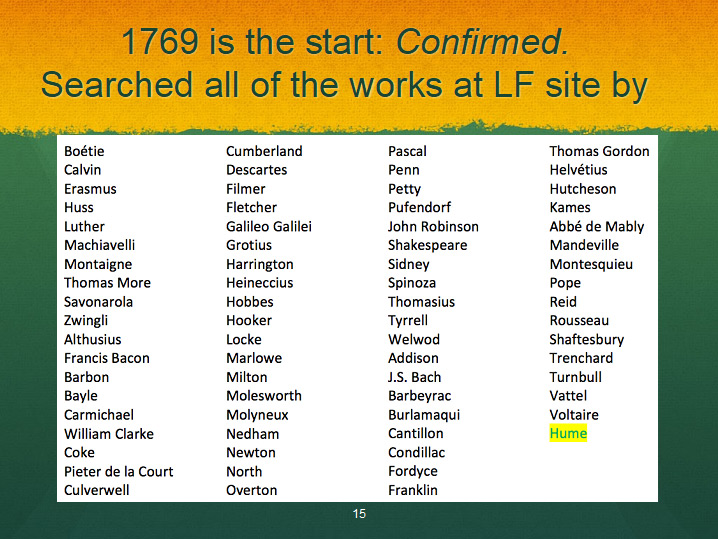 Source: The Excel file. (Thanks to Ben Bursae.)
That Hayek was right and the others wrong is further confirmed in other ways.
British officialdom starts talking 'liberal' in the Smithian fashion in the 1770s: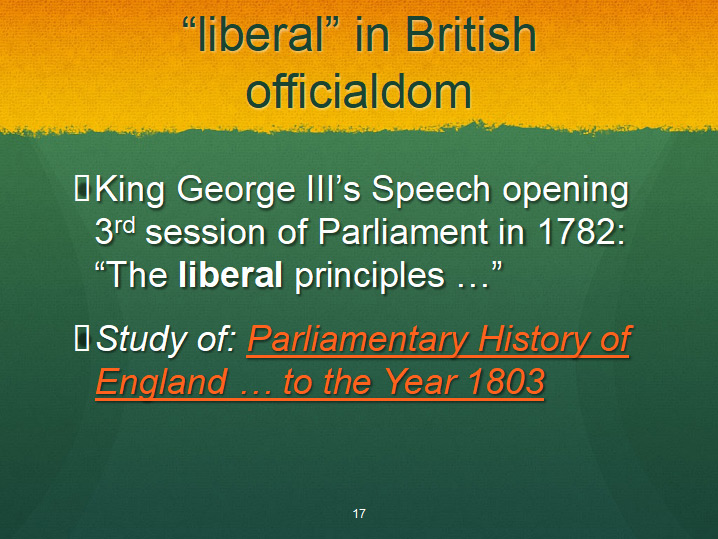 In the following picture, it is the red line that is important: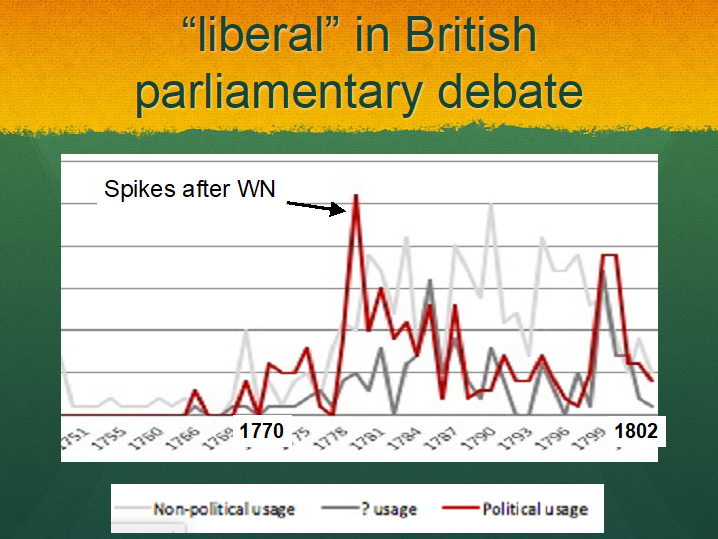 Source: The Excel file. (Thanks to Todd Peckarsky.)
Then there is the leading liberal journal, The Edinburgh Review, which started up in 1802.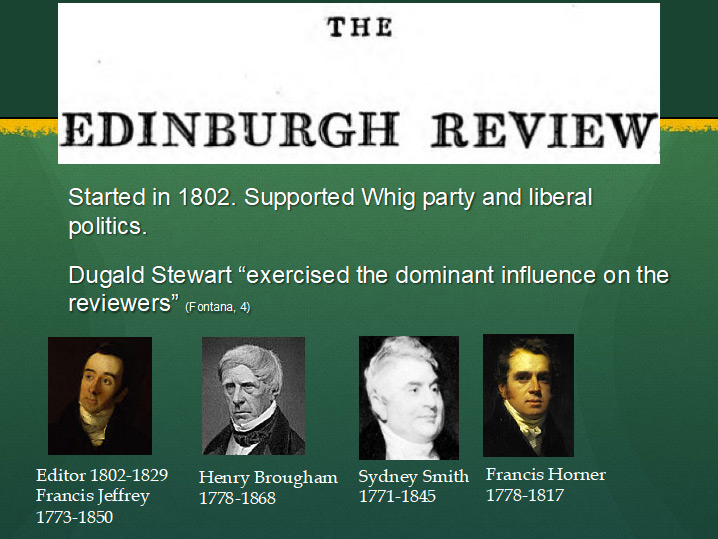 In the figure below it is the lower light blue line that it is important: We see a steady use of 'liberal' in the Smithian sense: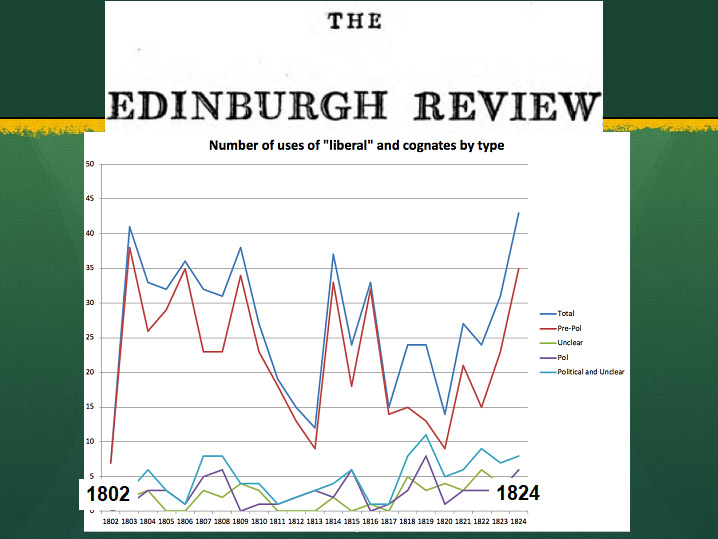 Source: The Excel file. (Thanks to Shanelka Payoe and Eric Hammer.)
An example of the avid use of Smithian 'liberal' is this 1824 piece on political economy by John Ramsay McCulloch, in Encyclopedia Britannica. In the United States in 1825, John McVickar followed suit and reproduced McCulloch's essay. In 1827, Henry Hallam, in Constitutional History of England, spoke of the revolution of 1688 as "the triumph of those principles which in the language of the present day are denominated liberal or constitutional," as noted by Hayek.
The 'liberal' expressions of the Smithians were clearly imported by the continent from Britain: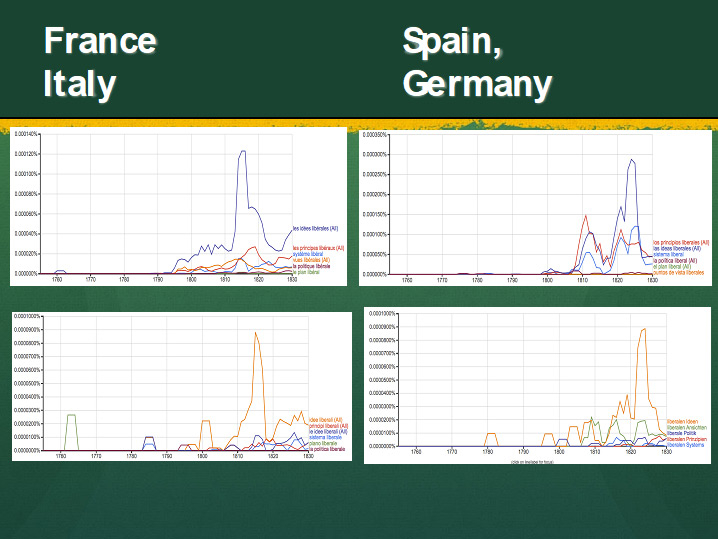 Sources: France here; Italy here; Spain here; Germany here.
Those expressions came to the French, Italian, Spanish, and German, but 20+ years after they had already started up in English. Again: Hayek right, the others wrong.
And that's why the -ism that came along was 'liberalism.' Once it did, it mopped up the 2gram expressions that had been used to signify Smithian liberalism: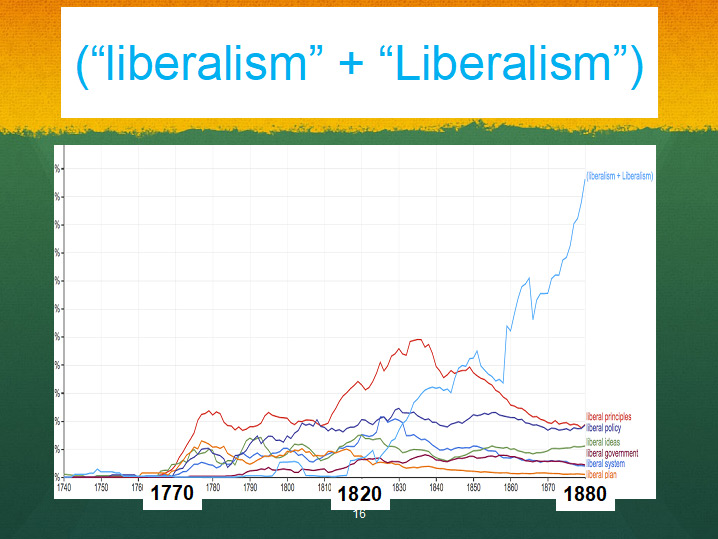 Source: Ngram Viewer.
Helena Rosenblatt and I have debated the matter at Timbro and elsewhere. She argues that a political meaning of 'liberal' started with the French Revolution. Helena is a friend but, frankly, I think that Helena has never attempted to explain why my material does not refute things she says about liberalism's beginning and nature and character. Watch the Timbro video and decide for yourself. I am grateful to Helena for her friendship and generosity, and admire her spirit of engagement.
Hayek did it the old fashioned way: Reading the writings of the liberal era. And we must do that, too, to confirm our understanding. But we now have tools and resources that Hayek did not have, and they completely confirm Hayek's belief that the 'liberal' of the original liberalism started in Britain in the 1770s. For nearly a decade I have been showing this evidence, and no one has ever challenged the evidence.
So, 'liberal' in a political sense started up in the 1770s. How long before 1770 did liberalism existed?
I think of Montaigne and Grotius as proto-liberals. It makes sense to see liberalism as tending to presuppose a stable, functional nation-state. I am comfortable saying Hume was a liberal, as opposed to a proto-liberal, but might use 'proto-liberal' for Locke. Pinpointing a date for a line between 'proto-liberal' and 'liberal' — Treaty of Westphalia? — is not important, but such a distinction makes sense. Once there is a stable nation-state, the liberals say to the magistrates and legislators: Make it a liberal nation-state by, as Smith put it, generally "allowing every man to pursue his own interest his own way, upon the liberal plan of equality, liberty, and justice."
Smithian liberalism has an important conservative element. I elaborate here. Smith, Hume, and Edmund Burke are basically alike in representing classical liberalism. The best classical liberalism is aptly construed today as conservative liberalism. Seeing classical liberalism as a broader notion, so as to include, say, Thomas Paine and Jeremy Bentham, is fair enough. I just think they represent inferior sorts of classical liberalism. Of the 19th century, Erik Gustaf Geijer and Alexis de Tocqueville are among those who best participate in the wisdom of Hume, Smith, and Burke.
Lately, Hume detractors call him racist. Kendra Asher explains that we should not read his infamous footnote shallowly; Asher's work appears in Economic Affairs.
A lot turned bad at the end of the 19th century. The Liberal Party in the United Kingdom changed its character and a new political meaning began to be attached to the word 'liberal.' We see that from 1880 people started resorting to 'new liberalism' and 'old liberalism' to clarify what they meant: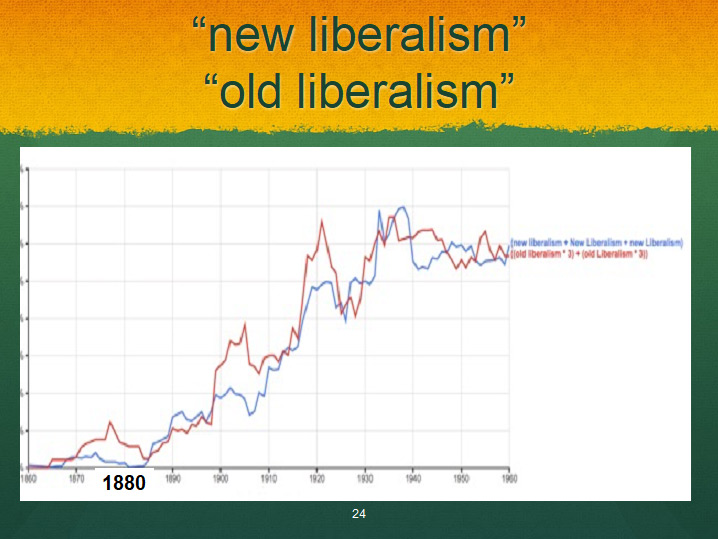 Source: Ngram Viewer
Bad semantics advanced from 1880. In the United States, the corruption of 'liberal' started in the early 20th century ('the progressive era'), but picked up under FDR. North America especially, but the world has been stuck in the ruts, semantically. It is time to get out.
'Leftism' is a good name for leftism. The term 'progressive' is apt enough in the United States, but it is parochial to the United States. For a long time, American leftists have been bashful about admitting their leftism.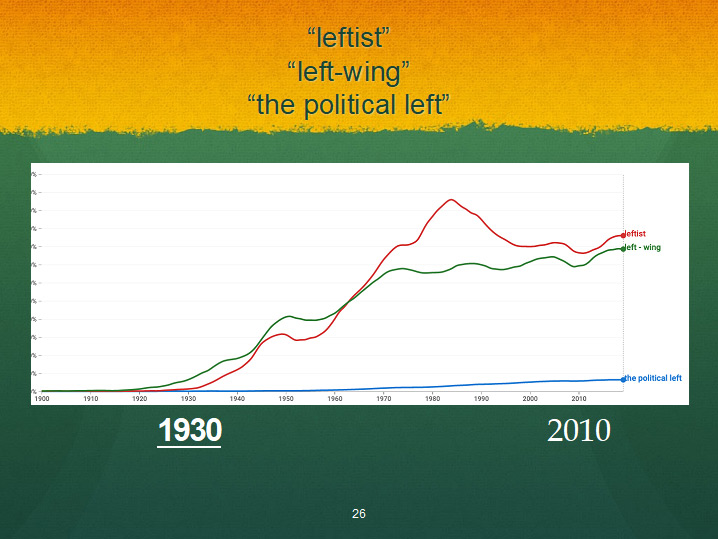 Source: Ngram Viewer.
'Leftism' travels well. Also, Steven Pinker's concept of 'the Left Pole' is important. 'Right' is best understood as non-left, and the non-left is more diverse than the left. The non-left is coalitional first, and fusionist only sometimes. I like fusionism, but coalitionalism is more important. In the new book, The Right, Matthew Continetti quotes Russell Kirk saying in 1958 that all that can be reasonably hoped for "is a series of leagues and coalitions of anti-collectivist elements against the collectivist tendency of the times."
Consider the following unfortunate chyron from Fox News "MY LIBERAL HELL," about Democratically led cities. That chyronist faces three options: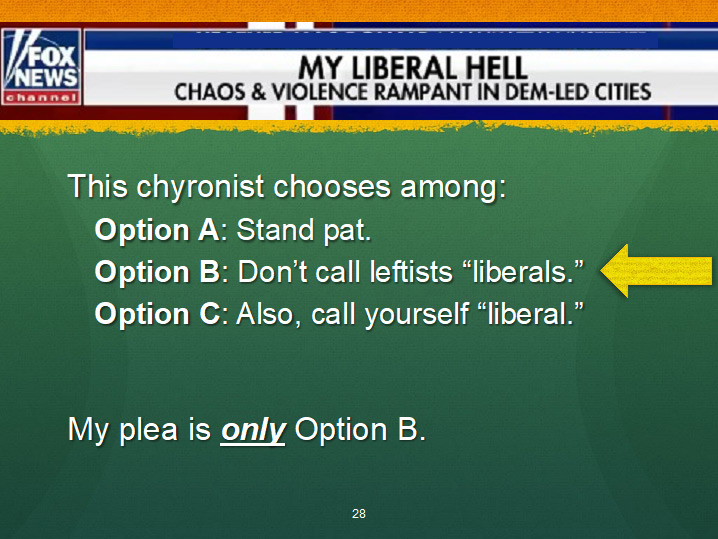 I urge Option B: Don't call leftists 'liberal.' I do not urge Option C. Whether you call yourself 'liberal' is secondary, and if you prefer 'conservative,' 'libertarian,' 'constitutionalist,' 'individualist,' —or, for Swedes, 'liberalconservative', 'conservativeliberal'—I say, fine.
No matter what happens over the next 50 years, the original arc of liberalism will still be the original centuries-long arc of liberalism. The founding of liberal civilization will still be the founding. The ascendancy of liberalism will always be liberalism's historic ascendancy.
Do not let your semantics flap to those of the left. It is our 500 years. There are many reasons not to call leftists 'liberal.' Here are ten. Liberality and liberalism go together, while illiberality and anti-liberalism go together.
Meanwhile, Ben Shapiro seems to refrain from calling leftists 'liberal,' as does Breitbart News. National Review and George Will seem to be moving in that direction, too. These are just examples of what seems to be a larger trend.
People I admire once made the mistake of calling leftists 'liberal':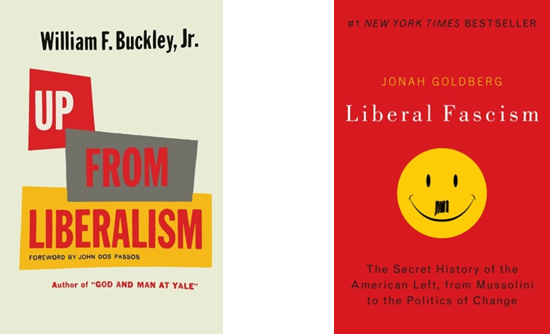 Upward vitality is perennial. In Mere Christianity, C.S. Lewis wrote:
– We all want progress. But progress means getting nearer to the place where you want to be. And if you have taken a wrong turning, then to go forward does not get you any nearer. If you are on the wrong road, progress means doing an about-turn and walking back to the right road; and in that case, the man who turns back soonest is the most progressive… And I think if you look at the present state of the world, it is pretty plain that humanity has been making some big mistake. We are on the wrong road. And if that is so, we must go back. Going back is the quickest way on.
Daniel Klein is professor of economics and JIN Chair at the Mercatus Center, George Mason University, where he leads a program in Adam Smith. He is the chief editor of Econ Journal Watch, coeditor of Edmund Burke and the Perennial Battle, 1789-1797. His contributions to Svensk Tidskrift are listed here.